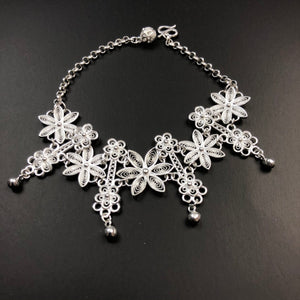 Material: Silver

Size: 16-20 CM
Elegant sterling silver floral snowflake design.
Inspired by traditional Yi ethnic motifs.

Perfect for special occasions or everyday wear.

Discover the enchanting allure of the Yi ethnic style with this stunning handcrafted floral snowflake sterling silver bracelet. Inspired by the rich cultural heritage of the Yi minority group, this exquisite bracelet showcases exceptional craftsmanship and intricate detailing, making it a truly unique addition to your jewelry collection.
The bracelet features an elegant floral snowflake design, masterfully crafted from sterling silver by skilled artisans who have a deep appreciation for traditional Yi motifs. The delicate snowflake pattern exudes timeless beauty, effortlessly merging traditional artistry with contemporary fashion.
Perfect for special occasions or as a striking everyday accessory, this handcrafted Yi ethnic floral snowflake sterling silver bracelet is a celebration of your admiration for traditional craftsmanship and minority culture.
CARE INSTRUCTIONS: 
To care for silver jewelry, regularly clean with a soft cloth, avoiding harsh chemicals. Store in a cool, dry place, and remove during physical activities. Limit exposure to chemicals in beauty products, sulfur, and humidity to prevent tarnishing.
For any questions – please do not hesitate to contact me! WE are very happy to answer your questions.